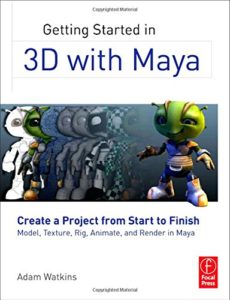 In what has to be one ridiculously long title for a pretty straight-forward book, Getting Started in 3D with Maya: Create a Project from Start to Finish – Model, Texture, Rig, Animate, and Render in Maya is actually not a bad place to start if you're trying to get into 3D. Adam Watkins manages to pack all the crucial steps of 3D modeling and animation into 9 concise chapters. I enjoyed the flow of the book, and felt that every important detail was explained. The author teaches just enough to get to the next step, and it's all done in a logical order and progression. If you are just getting started with 3D, or if you know another package and are new to Maya, I think this is a excellent book to pick up.
Watkins begins by explaining the general workflow and with the Maya philosophy (including a few somewhat comical hardware recommendations even though the book is only a couple years old). He continues with architectural modeling, organic modeling, UV layout, textures and materials, lighting and rendering, rigging and skinning, and finishes up with animation. Clocking in at around 448 pages, the book is not particularly short but I found I was able to get through it quickly. Each chapter was just the right size to read in one sitting, and the text was engaging enough to make me want to come back the following day.
I definitely feel like I learned a thing or two by reading this book, and it has helped me to better understand the Maya workflow. Most 3D packages are huge, monolithic pieces of software, and no single book could cover everything. However, Getting Started in 3D with Maya covers the basic things you need to know in order to get started (so the book is true to it's name). If I had one complaint, it's that I thought the art direction could have been better. This book won't teach you to be a masterful artist but I guess that wasn't the goal or scope of the text. In any case, I would certainly be interested in reading more from the author as I feel he has a clear and honest style that is easy to learn from. Recommended.