Review: Anatomy for 3D Artists: The Essential Guide for CG Professionals by Chris Legaspi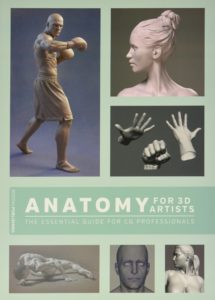 This book really is "The Essential Guide" for 3D character artists. Though you can probably make a decent model just following reference images and common sense, I think a solid basis of knowledge of the human form really is the foundation for taking your art to the next level of realism. If you are looking for that foundation, or just want to up your skills in the character department, look no further.
The chapter structure in Anatomy for 3D Artists has a variety of different artists tackling a few chapters each, giving the book some different flavor and allowing for these best-in-breed artists to highlight their strengths. It begins with 2D study, and has several chapters each detailing both male and female figures. This beginning part is very much foundational, and shows the basic proportions of the body as well as the basics of bone and muscle structure. This follows up with similar treatments of bone and muscles in a 3D context. Finally, they finish the book with some full sculpts of both male and female bodies in dynamic poses.
It really goes deep into the names and relationships between the bones and muscles, moreso than I was even expecting. And to put this into context, I went to art school for college and I don't even recall ever going this deep. For example, the text is peppered with lines like: "The bone of the femur rotates inward around its longitudinal axis. The tensor fasciae latae, the gluteus medius, and parts of the gluteus minimus allow this movement." I won't lie, some of this descriptions are thick and I doubt I will remember the specifics. Though it is still helpful to understand, and you could always refer back to the text in cases of confusion. And, despite some of the heavily worded descriptions, the text remains very approachable.
Anatomy for 3D Artists is a great place to look, not only for guidance but also inspiration. They spared no expense at having literally every page packed with multiple full color illustrations of each step along the way. Especially for a book of this nature, pictures are key to understanding the material, and the presentation is beautiful. There's also a few sections in the middle and end just to showcase finished artwork, which is appreciated.
One other great aspect, is that the instruction is not tied to any particular 3D modeling package. Though it's clear most of the authors are using ZBrush, they stray from going into the specific technical aspects of the application. Pretty much all the instruction is general and could be applied to whatever software you or your studio prefers.
All in all, I consider this book to be a huge success and should be a key element of any character artist's bag of tricks. Although there are other anatomy books going back years, this is one of the first specifically for 3D artists. I found it helpful and I think you will too.