Review: Shadowrun Returns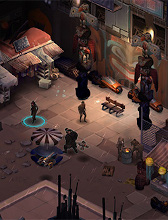 Let me just say this right off the bat: Shadowrun for Super Nintendo is my all-time favorite game. All time. It was great. Set in a future cyberpunk theme urban sprawl, you are basically a gun for hire. Or at least you were. You wake up in a morgue back from the dead with no memory of your life. You spend the rest of the game trying to discover what happened. It had RPG elements, action elements, adventure elements. You could hack computers and get money or steal information. You could go to a bar and hire guns to help out on your mission. It had an innovative dialogue system where you would get words in your "dictionary" that you could ask people. You started with nothing, but as you talked to people you would get more words to ask. It was awesome. Especially for 1993.
While Shadowrun Returns might not quite match what I remember of the original SNES title, it does a damn fine job at what it does. Basically the world is similar, and even the main character from the SNES game makes a cameo. Magic has returned to the world, along with ogres and elves and all that. Shadowrunners rule the streets. From simple hired guns (street samurai) to hackers (deckers) to mages, there are lots of different classes to choose from. The story follows a string of mysterious murders and the investigation to find the killer. Well, there is more than that but I don't want to give anything away. The game is what I would call a turn-based strategy RPG. There are lots of RPG elements and stats you can level up. This effects everything from your hit points, to the chance of success with any particular weapon. So this takes a note from the mechanics of the original pen-and-paper game. This works well, and the combat is still satisfying. There are also some cool missions, or at least one really good one at the end, where you have to hack into security systems and fight of guards on an espionage mission. Good stuff.
So the game is great, and you should buy it. However, I did feel like it was extremely linear.  In the Genesis version of the game (1994) you could take all sorts of side-missions to beef up your stats or make money. It was awesome. They had drug deals, extractions missions, VIP escorts (no, not that type of escort), hacking, the whole nine. In Shadowrun Returns there is only really one side-mission in the whole game. So you are basically watching a good interactive movie. Granted, it's a 17-hour movie, and it's great, but I would have liked more choice. There is also very little exploration, it mostly feels like an "on-rails" affair. That said, it's still a blast and any fans of cyberpunk fiction will probably get a kick out of it.
All in all a great addition to the Shadowrun universe, and a refreshing break from all the first-person 3D games that are all the rage. I do wish it were a little longer, and more of an open-world, but I guess you can't have everything. However, it appears the modding tools are good, and there is already a good amount of user generated content available. Plus, a DLC campaign is slated for early next year. This game has my cyber-seal-of-approval.